We have completed another successful TEKNOFEST, which the whole of Turkey has been waiting for with great enthusiasm and attended with the same enthusiasm. Here are our experiences from the Pardus booth:
This year, we were very happy to take our place among the most valuable projects and competitions held under the roof of TEKNOFEST. Another competition of TÜBİTAK, which organizes one third of the TEKNOFEST competitions, was the Pardus 3 Error Catching and Suggestion Competition, which we organized with the support of the Turkish Open Source Platform and Informatics Valley.
Winners of the Pardus 21 Error Catching and Suggestion Contest
We would like to thank all Pardus volunteers who showed interest in our competition and supported the development of Pardus with the mistakes they found and/or the suggestions they brought. 1st Fatma Hatipoğlu, 2nd Süleyman Poyraz and 3rd Muhammed Emin Tombak, who found the most critical mistakes in our competition and deserved to be ranked, received their awards at TEKNOFEST. The winner, Fatma Hatipoğlu, came from Ankara and visited our booth with her husband Tuğrul Hatipoğlu and their son, little Adem Kaan, and received her award from our President.
Our friend Süleyman Poyraz, who came in second place, came from Sivas and was with us at the Pardus stand and received his award from our Minister of Industry and Technology. We paid a visit to the third winner of our competition, Muhammed Emin Tombak, at the General Directorate of Health for the Border and Coasts of Turkey, where he served after TEKNOFEST, and presented his award. Turkey Border and Coasts General Director of Health Dr. Osman Kan and Mehmet Cevat Güneş, Private Secretary and Data Processing Officer, were also accompanied. The interest in our competition strengthened our friendship with the Pardus volunteers and encouraged us to organize many more projects with our Pardus community.
We were in the Pardus area at the TUBITAK stand
We made a strong impression with Pardus events in the area reserved for ULAKBİM Pardus of the giant stand belonging to TÜBİTAK. "We want to show the power of Pardus." When we said, "Then we give you our most powerful gaming computer in the trial phase", Casper also thanked the Pardus lovers on the computer, and the Gamers who were never idle during TEKNOFEST Here! We would like to talk about our event. Our powerful games played on two different screens attracted great attention and allowed us to host players of all ages at our stand.
In fact, our Minister of Industry and Technology Mr. Mustafa Varank and Deputy Minister Mr. M. Fatih Kacır played a game at Pardus 21 during their visit to our stand. Thus, one of our most popular events throughout the week is Gamers Here! it happened.

With the award-winning Pardus Quiz, we had fun, we learned and we won gifts.
We presented TEKNOFEST visitors daily calendars within the framework of our event program and supported them to participate in any competition they wanted. During the award-winning Pardus Quiz, breaths were held and the questions were tried to be answered in 10 seconds. While the youngsters competed with each other, the contestants who gave the most correct and fast answers won gifts, each more beautiful than the other, from 32 GB Pardus external memory to notebooks with Pardus logo, pens, bags, cups and hats. Thanks to the support of Levent Kol, who hosted the TÜBİTAK stand, during our competitions, we were able to make more of our competitors happy.
Pardus Parkour Contest made everyone sweat
Pardus Parkur, which is the most recent version of the Pardus operating system, made the participants sweat. Thanks to the little support of our technical team, both learning and winning contestants joined our Pardus volunteers as well as getting their Pardus memories.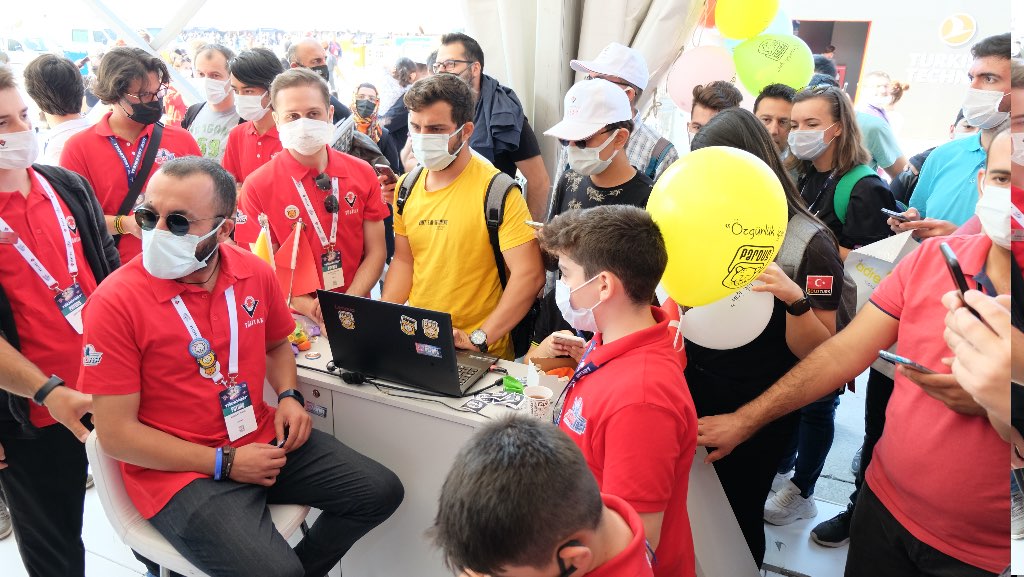 Little Pardus lovers had the chance to demonstrate their skills by drawing the Pardus logo on ETAP interactive boards loaded with Pardus. Children, who are most in demand for Pardus balloons, turned into our little volunteer ambassadors as they wandered around the TEKNOFEST area with Pardus balloons.


New opportunities for collaborations were discussed
He is also a Pardus volunteer and recently Pardus21 and LiderAhenkWe met and met at our booth with Mehmet İnce, who contributed to Pardus by finding a security hole in . Young people interested in technology received information from our technical team to use Pardus in their projects. Our visitors from institutions that migrated to Pardus conveyed their satisfaction and needs.
At the festival, where everyone from the service staff to the community agency, from our managers to our technical team, from the TEKNOFEST coordination team to the TÜBİTAK communication department, worked together with harmony and enthusiasm, our TÜBİTAK ULAKBİM Institute Director M. Mirat Satoğlu and our Pardus Project Executive Dr. The support Cengiz Çelik gave us with his assets was a harbinger that we would achieve much more together.
Thanks to everyone who contributed; We say stay with technology, use Pardus to meet at the next TEKNOFEST.