1.000% of the 75 most popular games on Steam are now running Linux, and this figure is even higher for the 100 most popular games.
Valve Software, the owner of popular games such as Dota 2, Half-Life, Team Fortress, with the game platform Steam, announced its plans to improve Windows game support for Linux in 2018.
Steam Play, a feature released by Valve Software in 2010 aimed at enabling games to be played cross-platform, would be used to improve this support. Valve Software has added a modified version of Wine called Proton to Steam Play, which originally started as a way for players to play the games on all platforms without having to purchase the games for each platform. Proton has improved its compatibility features and on the Steam platform Linux users can access more games using this new feature.
with an independent database protondb, a creation that tracks the compatibility status of games, and compatibility rates have increased significantly in recent years. On the site, it is possible to see the compatibility status for the top 10, top 100 and top 1000 games on Steam:

1000% of the 75 most popular games are currently running on Linux, and the figure is even higher at 100% for the 80 most popular games. Only the top 10 games aren't doing very well, as only 40% of them can run on Linux without major issues, according to the database.
Users have submitted more than 21.000 reports for over 150.000 games to the database. More than 21.000 of these 17.600 games run on Linux, according to the site.
The games in the database are ranked according to a medal system. Gold and Platinum rated games run smoothly, Silver rated games may have minor issues. Bronze-rated games, on the other hand, may experience crashes along with major problems. Bad-rated games, on the other hand, do not work or are not playable at all, unlike native Linux games.
Protondb has a search feature that Linux players can use to find out how their game is running on Linux. All games matching the search term are displayed, so you can search for all series games and view the compatibility rating of all reported games (Example: King's Bounty, Final Fantasy, Civilization series).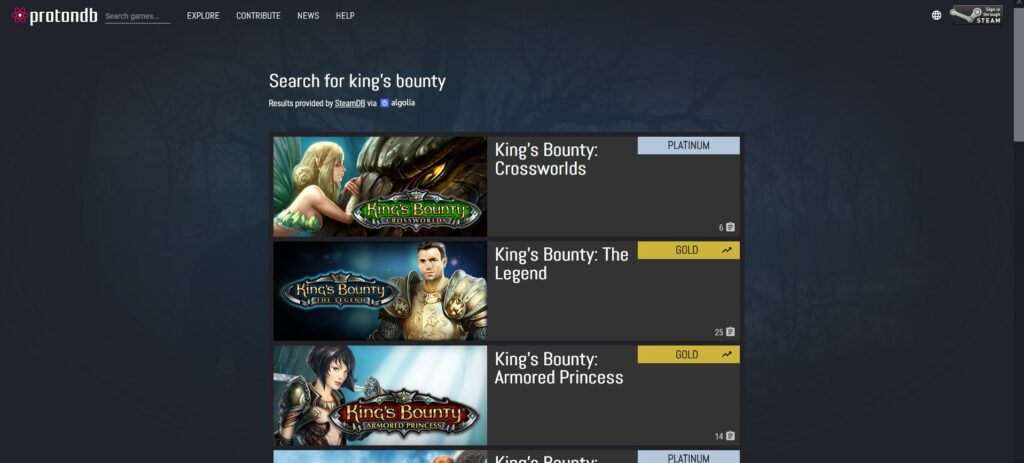 While there are still games that don't run on Linux, it's clear that compatibility has improved significantly in recent years, and it continues to improve.
Source: hacks