Our interview guest, Ayhan YALÇINSOY, explained the reasons for choosing open source, and his support for Pardus and the open source world.
In this section, we bring you our interviews, where people who have a say in the open source world share their experiences and opinions with us. In this part of our conversations, we hosted our friend Ayhan YALÇINSOY, a member of The Document Foundation (TDF) Executive Board, a former member of the Pardus community and one of the developers of the Pisi GNU/Linux distribution:
Could you briefly introduce yourself?
I was born in 1978 in Kahramanmaraş. I am working as a civil servant in a public institution. With my first computer I bought in 1998, I started to be interested in computer technology. I am honored to be in a position to support open source software on this path that I once entered as an end user.
How did you meet GNU/Linux and free software? Why Linux?
I became aware of Linux and open source technologies with the Future 2000 operating system CD in a computer magazine I bought in 1.0. He was talking about the ULUDAĞ (National Distribution) Project in the same magazine. After that day, I started to wait and when PARDUS 26 was announced on December 2005, 1.0, the first thing I did was to install it on my computer. After that day, I did not use proprietary software unless necessary.
I say Linux because it frees the user as much as possible. You can support the software you use. You can make suggestions according to your needs and contribute to its development.
How and when did you start contributing to free software?
The last fork of PISI based Pardus kitty GNU/Linux I contribute to the project as a developer. Apart from this, LibreOffice and Collabora Office packages include interface, help text, translation of Wikimedia content (2010-cont.), basic code defect (easyhack) troubleshooting (2019-cont.) and user manual translation (2021-continued) I'm trying to contribute to issues such as. My first contributions were KDE interface translation for PiSi-based Pardus and news about Pardus in the international media, which was the community portal of Pardus at that time. ozgurlukicin.com I translated it for the website.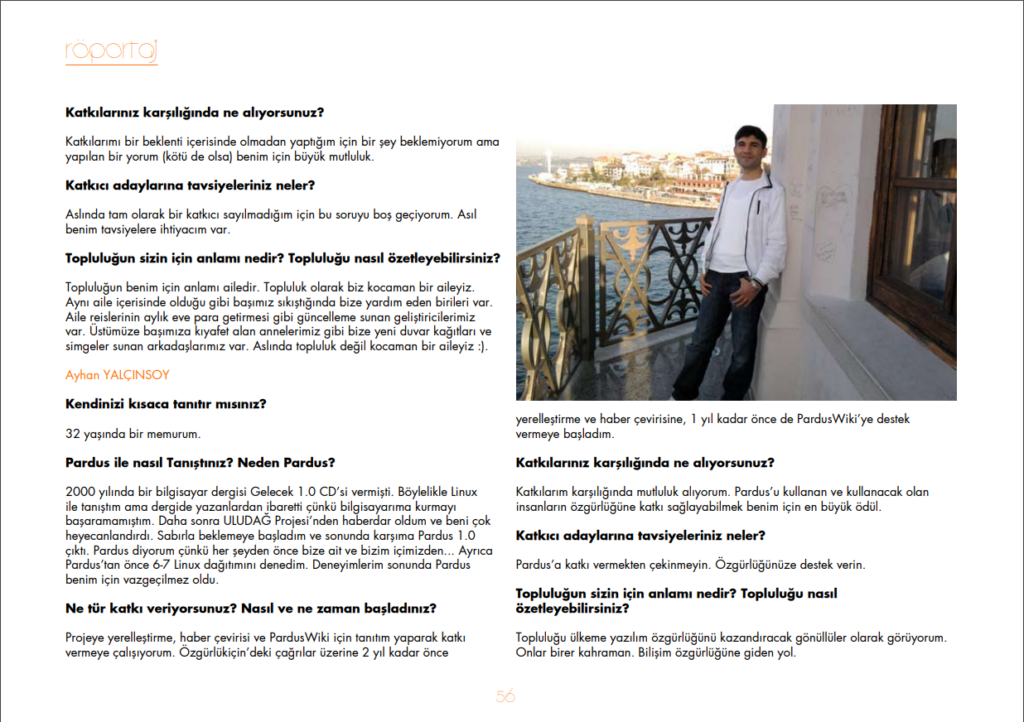 What do you get in return for your contributions?
I do not receive any financial gain for my contributions, but it is enough to know that these contributions make someone's job easier. I think that by supporting all the people who contributed to the software I use, I have paid a bit of money for their efforts. Also, the freedom that free software gives me must be the greatest reward I have ever received.
What are your recommendations to Pardus community contributor candidates?
Although Pardus abandons the PISI base developed by TÜBİTAK and uses the Debian base, being a free operating system is enough to use and support it. I think like this; Even if you develop a cutting-edge tool/device, if you outsource the software, that product is not under your control. That's why we should support open source and self-developed software. You don't need to know coding to support open source software.
You can use it, you can promote it, you can translate it into different languages ​​if you know the language, you can support new users with your user experience and you can support in many more ways. Providing all kinds of support to Pardus and other open source software saves us from foreign dependency in many areas.
Which free software applications and components do you frequently use in your professional or daily life?
As I just mentioned, I haven't used proprietary software since 2005 unless absolutely necessary. Pardus (2005-2013), Pisi GNU/Linux (2013 and later), LibreOffice (2010 and later), PSPP statistical analysis application (2013 and later), GNOME, LXQT, MATE as desktop environment; Firefox as web browser,…
Actually, since I use a free operating system, all the software I use is also free software. For example, I wrote my Master's and Doctorate theses with LibreOffice. I did the statistical analyzes in the theses with PSPP.
How have you benefited from open source communities and their work so far?
Open source communities are a source of nutrition for open source software. These communities are very influential on the life cycle of open source projects. That's why being a member of open source communities is one of the best ways to support the software you use. Years ago, when the news of the termination of the Pardus Project spread, as a result of the applications we made to the relevant places as a community, statements were made that the project would continue but some infrastructure works had to be done. Again in 2010, as a result of the news that the source code of the OpenOffice.org project would be closed, The Document Foundation (TDF) was established and announced LibreOffice by forking the code. At that time, as Pardus volunteers, we decided to leave OpenOffice.org, whose source code was in danger of being shut down, and use LibreOffice, and LibreOffice is still being used. These events have shown us the power of open source communities.
Join an open source community and support the software you use. It will make you happy. I have been a member of TDF for a long time and as a result of the elections held at the end of last year, I was elected as a substitute member of the TDF Board of Directors for the period 2022-2024. It is a great feeling to have a say in the present and future of such a big project.
Finally, free software meets almost all your needs and does not charge you anything.