In the "Ay Yıldız" version of Pardus, a Debian-based linux distribution, Debian's recently released version featuresIn addition, there are many new applications and developments. Pardus offers installation options in both XFCE and GNOME desktop environments to meet the various needs and expectations of users. Optimized and customized versions for both desktop environments as separate ISO files you can download. In the new version, applications that can run in both desktop environments have been developed, as well as applications specific to the desktop environments XFCE and GNOME. Release notesYou can also browse through. Let's examine the applications that will come with the Crescent and Yıldız version.
Pardus Gnome Welcomer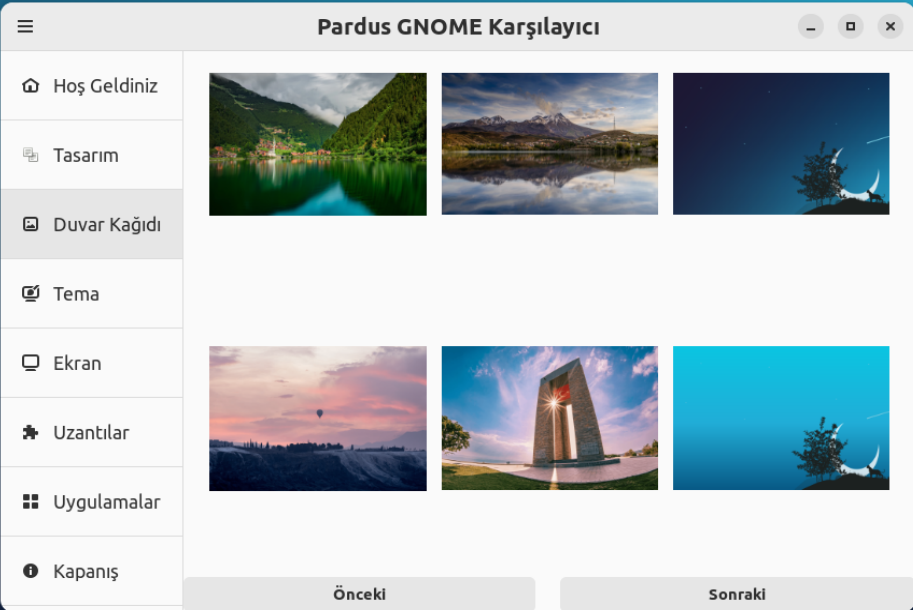 GNOME The specially designed application provides a clear and user-friendly start-up experience, free from unnecessary details. With this application, you can set your wallpaper, customize it with theme and image settings, and give your keyboard settings the shape you want. You can also discover keyboard shortcuts through this application.
Pardus XFCE Welcomer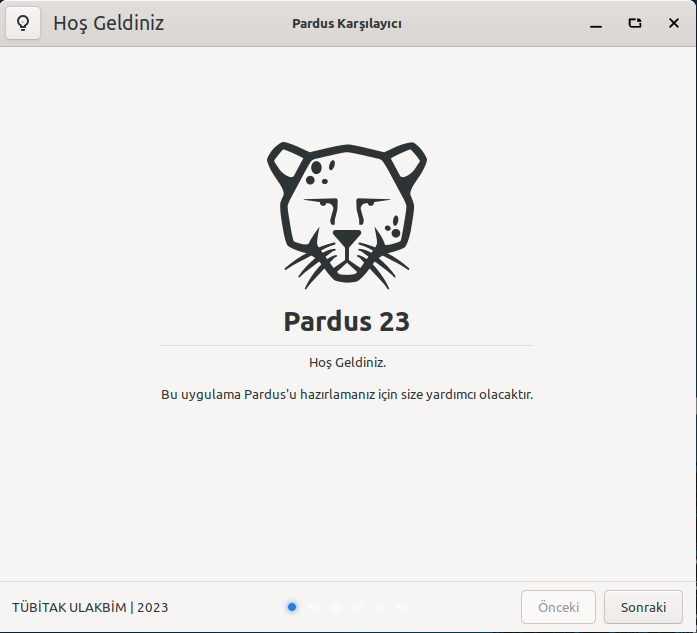 XFCE The application, developed specifically for
With the application where you can set the wallpaper, customize the theme and image settings and keyboard settings, you can also examine the keyboard shortcuts you can use.
Pardus XFCE Fine Settings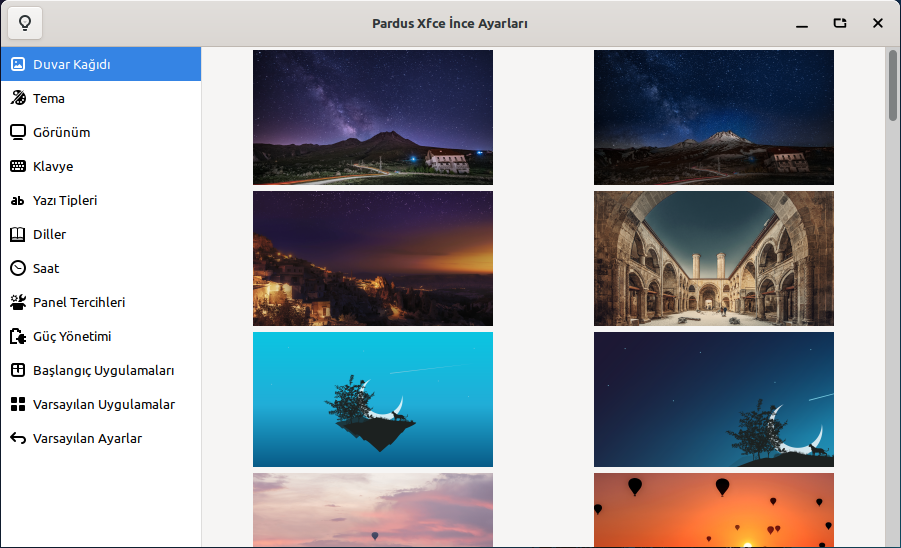 XFCE Developed specifically for the application, it is used to easily change desktop environment settings and customizations.
Wallpaper and Theme Changes: It allows users to choose wallpapers and change system theme to dark or light color.
Screen: With image scaling, the panel provides the ability to change desktop icons and mouse pointer sizes.
Keyboard: It allows users to add and remove keyboard layout, display keyboard indicator on panel.
Fonts: It provides options to change the fonts and font sizes used in the system.
Language: It enables to perform operations such as adding or changing languages, languages ​​installed in the system.
Hour: Time display options allow to set date&time / time only.
Panel Preferences: It allows users to set options to be displayed on the panel. It helps to use options such as logging off, switching users, restarting the computer or as a shortcut on the panel.
Power Management: It allows you to set the screen dimming and sleep times of your system.
Startup Applications: It allows the user to choose which applications to run automatically when they start their computer.
Default Apps: Browser, file manager, e-mail, music, text editor, etc. It allows specifying which applications open automatically for file types and operations. For example, if your default browser is Firefox, web links will be displayed with Firefox.
Default Settings: The panel allows you to reset the file manager or all xfce settings to default.
Pardus Power Manager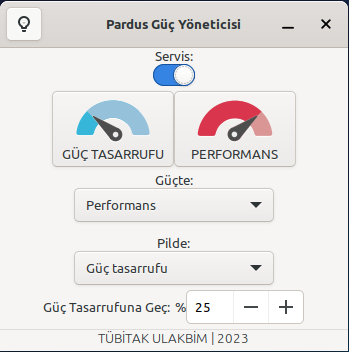 XFCE The application developed for the application allows you to adjust the screen saving modes according to you in battery or power usage.
You can also adjust the battery charge rate to switch to power saving mode through the app.
Pardus Font Manager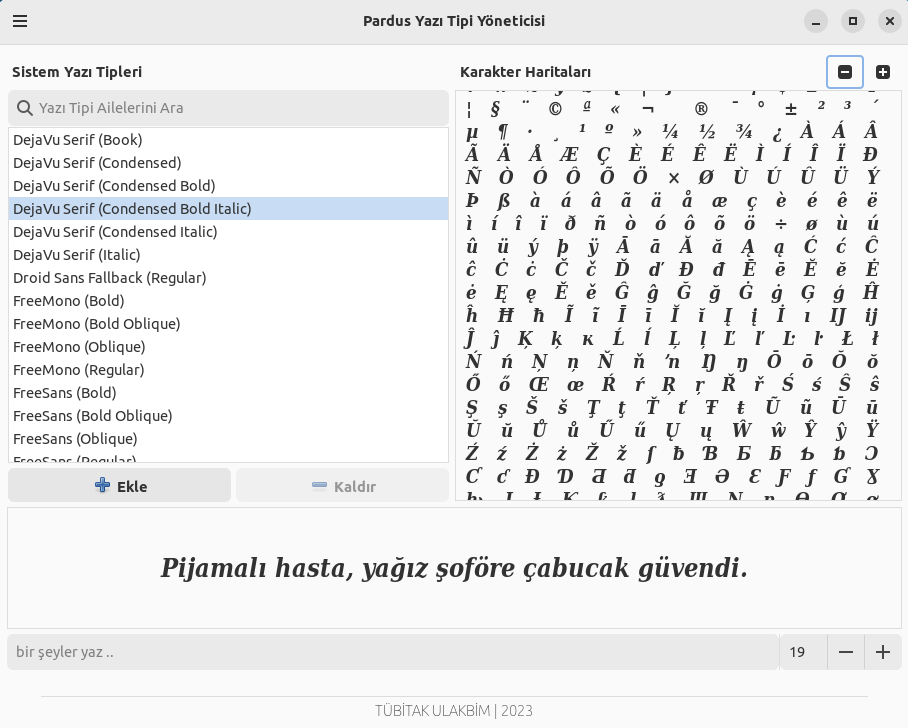 The application lists the fonts installed on your system, allows you to search font families, add new fonts to the list, and delete the font if the font has been added by the user.
It allows you to visualize how the font looks in certain scenarios, change its dimensions, and see the character maps of the font. You can also see how the fonts look in some sample words and letters that we will write on our own.
Pardus Night Light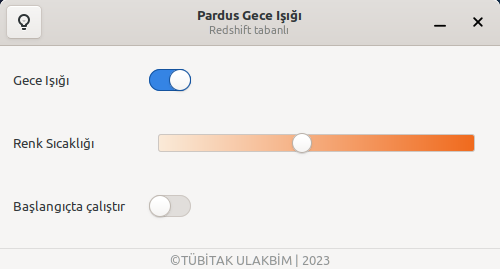 XFCE The application developed for the application aims to reduce the blue light emission by changing the screen color temperature.
In this way, reducing blue light, especially in the evening, can help prevent melatonin production and thus a better sleep quality.
Pardus Updater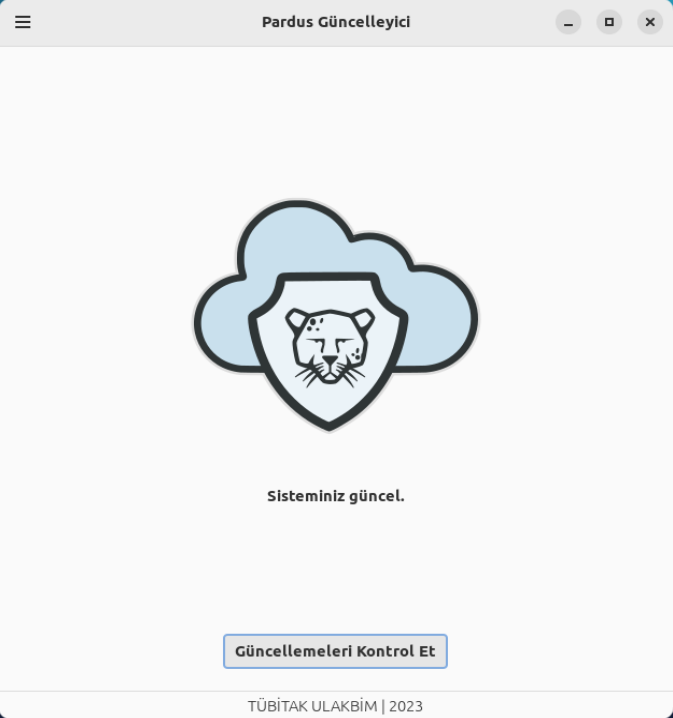 It is a tool that allows you to keep the software and system components on your computer up to date. Updates are important to maintain system security and stability, take advantage of new features, and fix bugs. Pardus updater allows you to carry out the update process in an easy, effective and user-friendly way. It allows you to set the update check frequency, whether the application will run at startup or not, and to see the date of the last update.
Pardus LightDM Fine Settings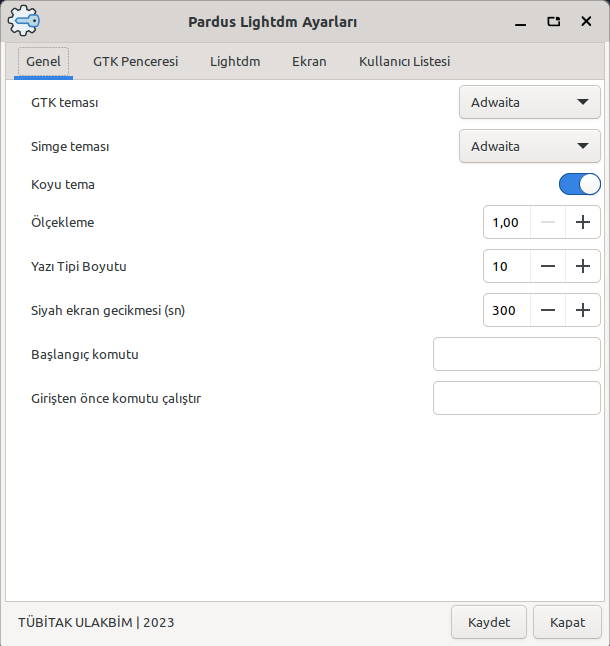 LightDM is a lightweight and fast display manager used to start graphical user sessions. The application developed for XFCE is LightDM's configuration and customization interface. Thanks to the application, it allows users to fully customize the login screen, allowing them to take control of many areas, from aesthetics to security.
General Settings: It provides control over aesthetics and user experience.
Theme and Icon: Choosing GTK theme, icon set and dark theme.
Display and Font: Screen scaling, adjusting font size and black screen lag.
Startup Commands: Start session and run special commands before login.
GTK Window Settings: It gives you more control over the appearance of the login screen.
Background and Logo: Branding possibility by adding personal background image and custom logo.
Login Options: Set login with blank password and login without pressing enter.
User Memory: Ability to remember the name of the last logged in user.
LightDM Settings: It allows you to make settings related to system and security options.
Root and Auto Login: Manage login with root user and automatic login for specific user.
Screen settings: It provides options for different display configurations.
Screen Mirroring: Mirroring screens in multi-screen setups.
Default Screen: Choosing which screen to use on startup.
User List: Allows you to control which users are displayed on the login screen.
User Display: Options to list usernames, show real names, and hide specific users.
Other Pardus Applications
My Pardus Computer
It is an information and management interface application for disks on your personal computer.
You can monitor the total size, free disk space and live disk space of your root directory and connected disks on your computer.
You can learn detailed information such as device path, connection path and file system of your disks connected to your computer.
You can format and remove your removable disks connected to your computer.
Pardus Login Screen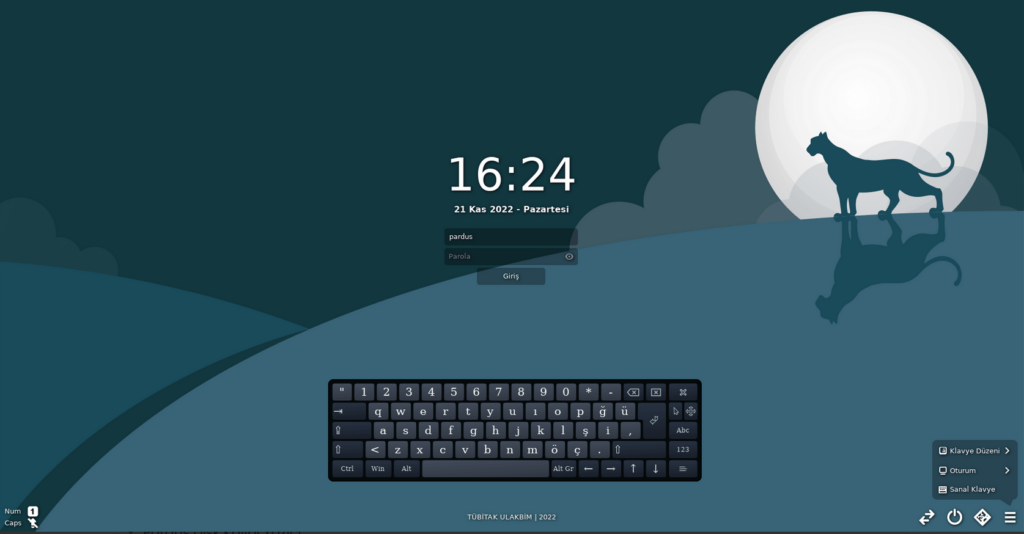 It is a welcome application developed for Pardus.
Ability to automatically retrieve the used wallpaper from the system.
The ability to log in automatically when the user password is entered.
Provide virtual keyboard support for users.
Ability to choose between Turkish Q, Turkish F and English keyboard layouts.
Ability to switch between desktop environments installed on the user's system.
The ability of the computer to provide information about its internal IP in the network it is connected to.
About Pardus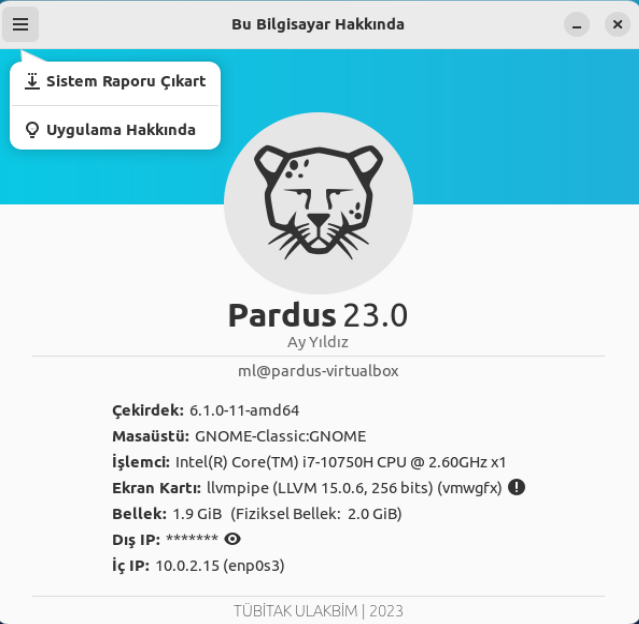 It is an application that gives you information about your personal computer and can generate a detailed system report for your computer if you wish.
Pardus Disk Permanent Printer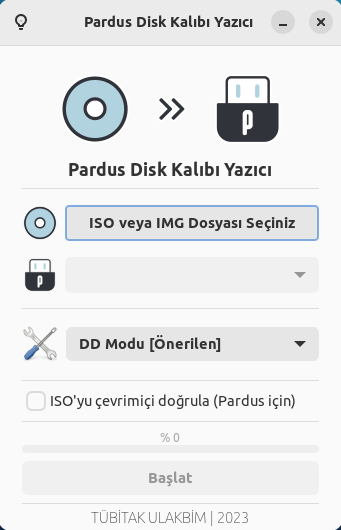 It is an application that allows you to burn the image files of Linux-based distributions and Windows operating systems to a USB disk on your personal computer.
Pardus Java Founder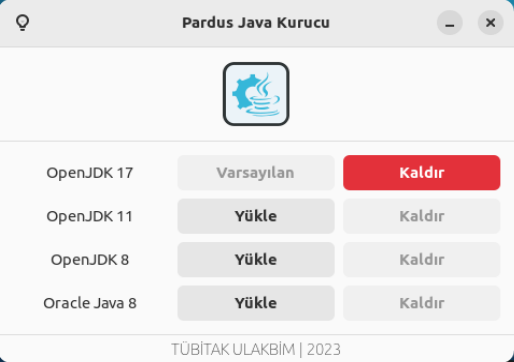 It helps you to install the Java versions available in the Pardus repository on your computer, and also to choose a default Java version.
Pardus Pen
It is a simple drawing application that you can use on your Pardus-loaded computer and transforms your screen into a drawing environment.
Pardus Package Founder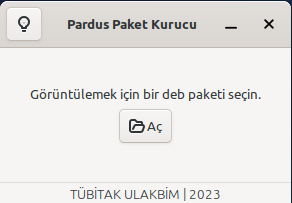 It is an application used to install, remove and view deb packages on your system.
Pardus Usb Formatter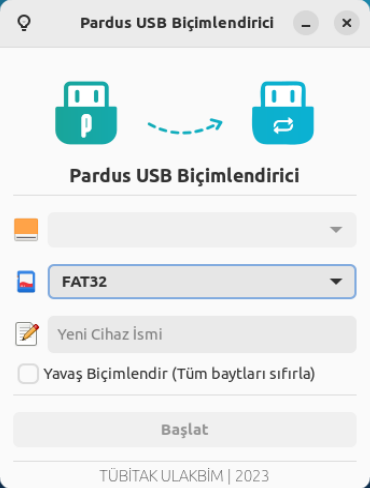 It is an application that you can easily format your USB sticks to FAT32, NTFS, EXFAT and EXT4 formats.
Pardus Software Center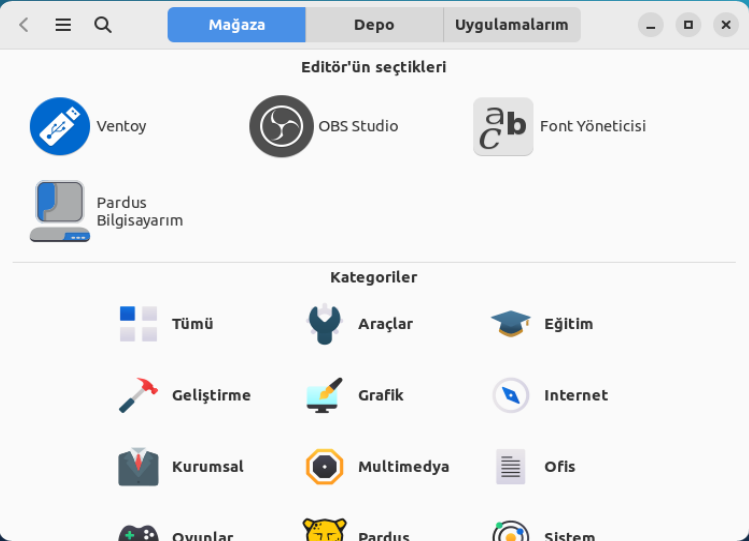 It is an application that helps you to install, uninstall and update applications on your computer.
You can get detailed information about the applications you want to install.
You can write comments for the applications you have installed and see the comments of other users.
You can update the package cache and remove unused packages and files.
You can view the statistics of the applications.
You can send us your request for the Application Suggestion feature to add the applications you have written or requested to the Pardus Software Center.
Pardus Startup Repair
It is a startup repair tool for your computer with Pardus installed.
Grub repair bootloader
Changing the forgotten password
Terminal startup on installed system
Reinstallation of existing system
Resetting user data
Bad disk repair
Corrupt package repair
System update
You can perform operations such as