In the days when we will publish this article, we experienced the earthquake disaster in my hand. As the Pardus family, with the effect of being the followers of the sharing free software philosophy, we have been helping as much as we can in various capacities, and we have provided material and financial aid as an institution. Undoubtedly, we will try to fulfill our duties with our independence and savings in aid and renewal efforts, which should remain on the agenda without forgetting the coming period. We share our assessment of 2022 with you, belatedly..
---
As we leave the year 2022 behind, I wanted to take this opportunity to bring together the developments and news we shared throughout the year, and to share the work we have done with my own comments from within the project.
The year 2022 stood out as a year in which various long-term projects especially yielded the fruits of Pardus. In the coming period, we will intensify our efforts to ensure that these breakthroughs that we have started are rooted and sustainable. We brought you the intermediate versions of Pardus desktop 21.2, 21.3 and 21.4, one of our most important tasks, with various innovations. We want to continue our stable, fast, low resource consuming release tradition that we have been maintaining since Pardus 23, which we released in 2017, with our 17 releases next year.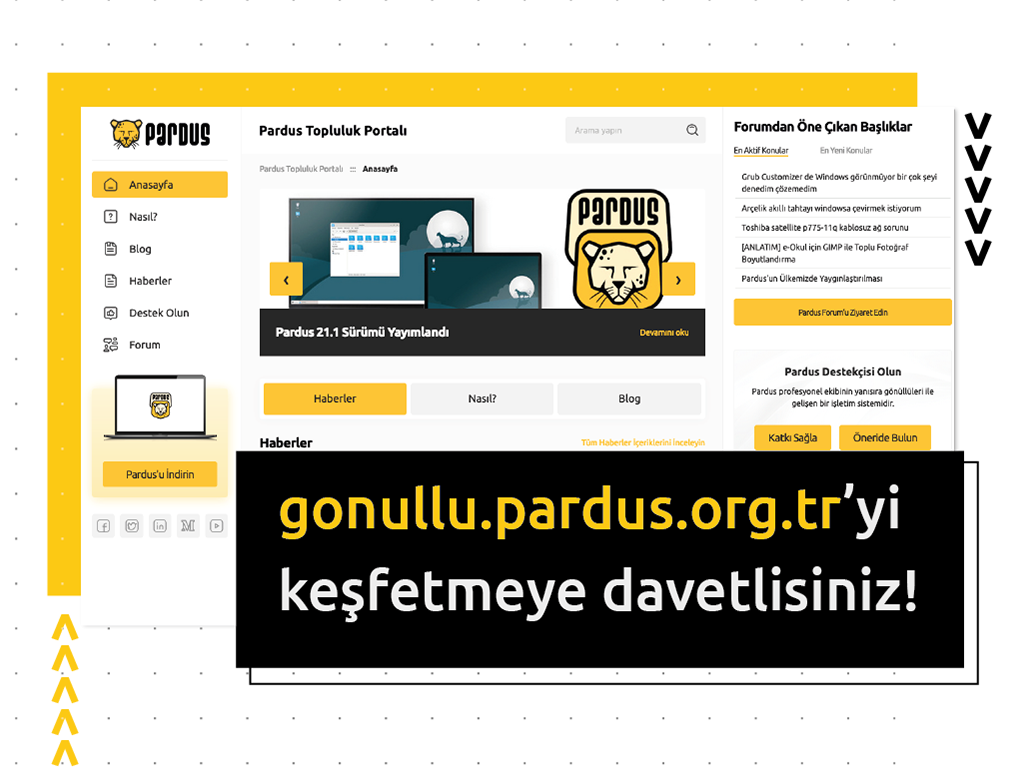 Community building is one of our breakthroughs, which is most essential for the future of the Pardus project, but whose positive effects can be seen the slowest. Offering a portal where Pardus users can follow open source technologies closely and benefit from the information of others was one of the first important steps of this project. Our community portal in early 2022 gonullu.pardus.org.tr has been activated. Of course, the revival of this place, reaching a spirit that is alive and spreading open source enthusiasm is a goal that can be achieved over time with your contributions. It is our greatest wish to be an important touchstone in your careers, to become a home where you can show yourself in the technical world, and where you can inspire and help others in this process.
We provide information and guidance on many subjects from developing new applications to preparing documentation on our volunteer portal, and we are trying to enrich them day by day. Our Pardus Suggestion and Error Catching competitions, which we have prepared within the scope of Teknofest, have now become regular. In addition, we will try to keep our community portal alive with many different competitions such as the background design competition we held in 2022.
Pardus Server Version
With its Debian base, Pardus naturally offers a very important solution for the server side, and it also serves successfully in some public institutions. In the past, we have shown our determination to be active on the server side with our support of the ARM 64 platform. In 2022, we started a very important study with Türk Telekom on the use of Pardus in their data centers (Link to related newsThis work, which is very important for us in terms of proving ourselves and developing at the same time, gave its first fruit with the Pardus certification of Netaş's domestic server hardware (Link to related news). We plan to intensify such joint work and certification practices in the coming period.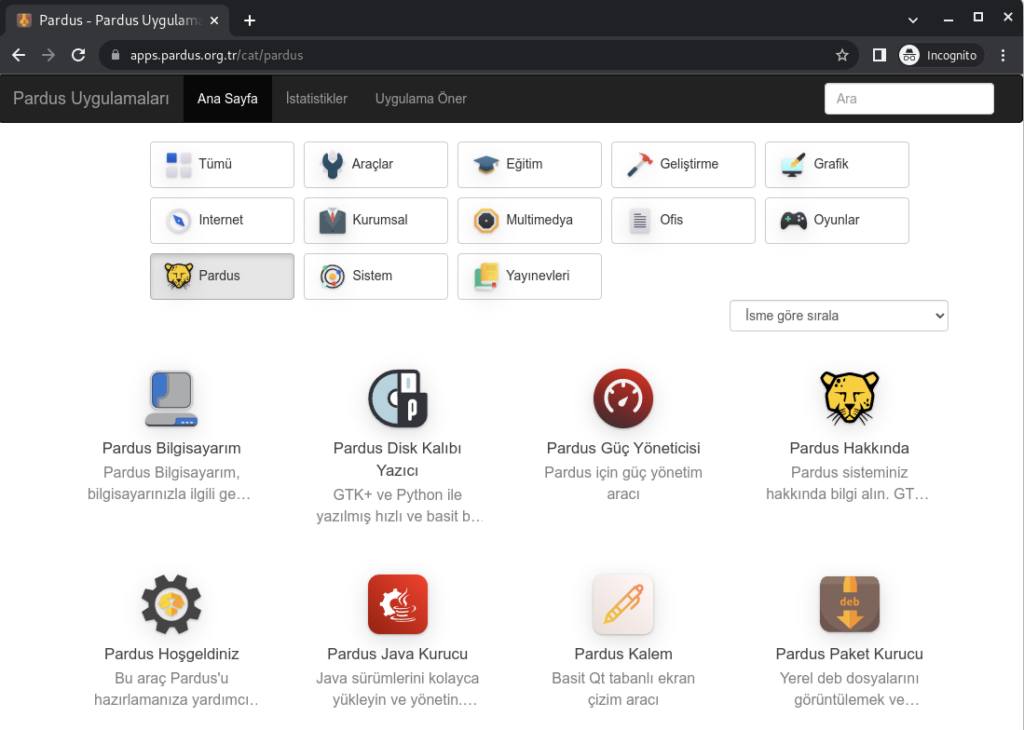 Pardus Application Center, originally developed by the Pardus team, offers an environment where new users can easily install applications to the Linux world. We try to provide guidance to users by giving place to widely used applications specific to Turkey, comments from our country users about these applications, and comments from the rest of the world. For example, Google Earth program causes some problems when run in Turkish and some other languages. We present this application to users by correcting this problem. Again, thanks to the application center, users can see which programs they have installed on their systems and remove the ones they want.
With the Pardus Application Center portal, which we launched in 2022, it is possible to access all information, to like the applications you want and to install them on your computer. In addition, various statistics about the application store can be accessed here. Personally, one of the aspects that I like the most is that thanks to this, I can provide a link from our portal when giving information about which applications we have in certain categories, or while sharing a certain application with others. In this way, even non-Pardus users can take a look at our system, even from afar.
Pardus Expansion
We continue to carry out studies such as promotion, preliminary analysis and proof of concept with institutions that are interested in the spread of Pardus. In general, our communication with institutions takes place by word of mouth, like personnel who change jobs while using them in another institution. Of course, this is not an ideal model, it needs to be developed, but on the other hand, there are opportunities that renew our confidence in terms of the good work done. In addition to these preliminary studies that we carried out with important institutions in the background, Ziraat Participation's success in Pardus transformation in 2022 was an important milestone for us both in terms of being a banking sector with strict regulations and a private sector.
Strategy and Budget Presidency, BTK, İSKİ, AFAD, Diyanet İ.B. Pardus continued to be used and popularized in our institutions. For example, we set up a special Software Center for AFAD for the dissemination of in-house applications.
In addition, we signed a contract with AFAD for corporate support and software development.
The use of Pardus in Qatar hospitals ( Link to related news ) came from the TUG observatory in Antalya at an altitude of 2500 meters. We were very happy with the visual quality of the interview shot for this study, as well as the use of Pardus in such a technical and specific environment. I invite you to watch this video: https://youtu.be/GfDuRxDKlEw
Our Open Source projects, Ahapot BSGS, Lider Ahenk, Viper, ULAK Video Conference, continued to develop in 2022 both in terms of features and use in the field.
We Introduced Pardus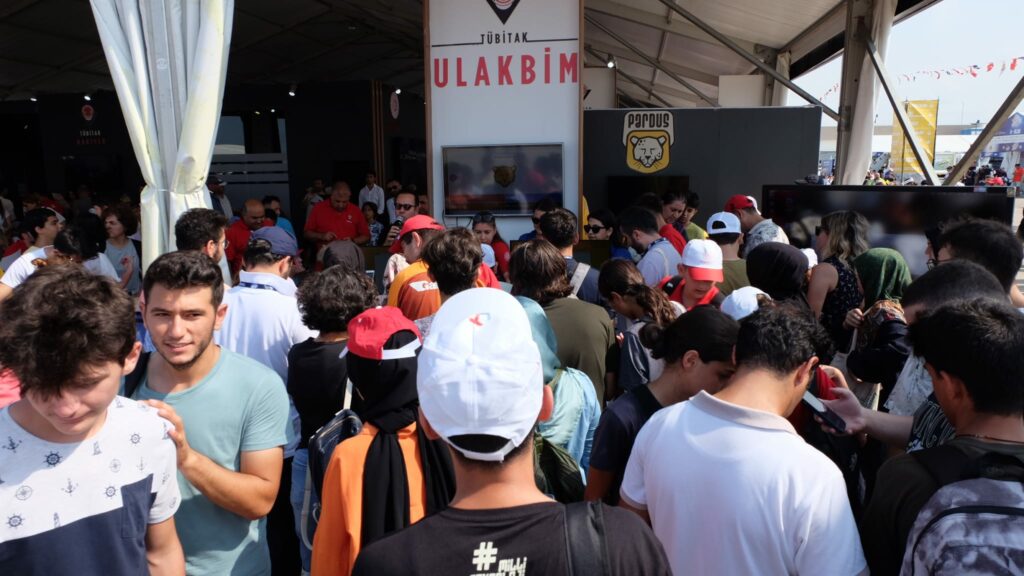 We introduced Pardus and its technologies in 5 different fairs, especially Teknofest. Thanks to Pardus Parkur, we gave the participants small tasks and helped them to complete them and to get to know Pardus on this occasion. We have shown practically that high performance games can be played with Pardus on the gaming computers provided by TechnoPC. We organized a Bug Catch and Suggestion Contest for Pardus 21.2, the then version of Pardus. In addition, in events such as the Efficiency Fair and Field Expo, Pardus Ahtapot Integrated Cyber ​​Security System, Liderahenk We introduced the Central Management System, the Viper Identity Management System.
In this period when the pandemic conditions weakened, we made 5 trainings and presentations, 34 of which were remote.
Mustafa Akgül Free Software Summer Camp organized by LKD (https://kamp.linux.org.tr/2022/hakkinda/yaz-kampi/) and Samsun Pardus Open Source Days (twitter.com/PardusCorporate/status/1524711032941432832) organizations.
One of the developments in 2022 was that we started Podcast broadcasts ( www.pardus.org.tr/podcast-yayinlari/ ) . Also, our Youtube channel has become more active. www.youtube.com/@PardusTV
We would like to see you among us at an increasing level in 2023. Come, start developing yourself in the IT World with Pardus. Open the door of Linux technology, which has left its mark on the whole world, with Pardus. Become a consumer and not the end user who uses the interfaces put in front of him, who can use his own hardware like a taxi customer, but who directs the technology, runs his computer at full capacity and as he wishes.