I've been interested in technology as long as I can remember. Old or new, it doesn't matter, I would like to tamper with and use all technological devices in some way.
When my inquisitive personality is combined with my ability to learn quickly, it becomes very easy for me to keep up with the technologies I encounter for the first time and tablets such as the Wacom Cintiq.
As Artistanbul, we carry out the corporate communication and community processes of Pardus. All the products, services and software used by the team in their first venture into this company seem to have been around for years. ArtistanbulThey were quite surprised when I immediately started using it like everyone else, as if I was working at . Speaking of technological devices, there are various "legends" in our office, from the Developer Edition of the world's first Android phone, HTC Dream, to the original Commodore 64. From this point of view, it should not be difficult for us to open a small technology museum in the office with our own means. It's no longer a secret that I've fallen in love with Commodore, so to speak, since the first day I came to the office (it's been about a year). 🙂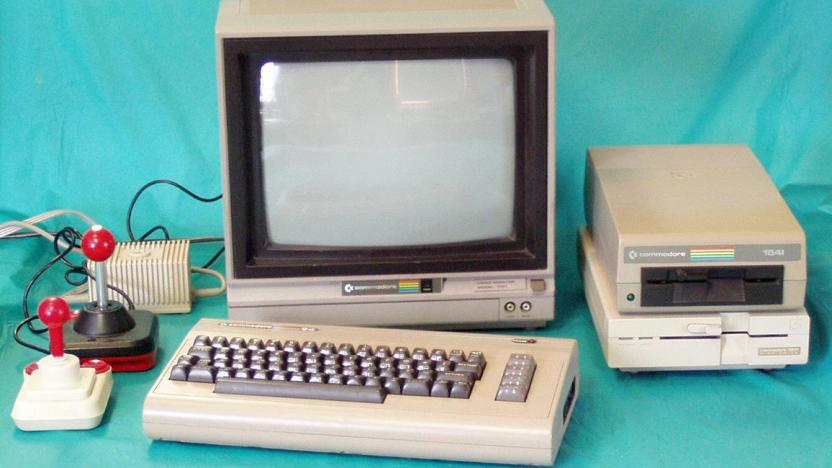 "We've read this far, sir, what does this article have to do with the title?" I can hear you say. These details were needed to make what I was going to say to be understood more easily. Now I'm getting to the main topic.
Finding out there is a Wacom Cintiq graphics tablet in the office
One day my dear boss Ali Isingor While working with him in the office, he suddenly turned to me and asked the following question that piqued my curiosity: "My dear Mehmet, you will have a lot of fun while writing. blog I have an article in mind. Do you want to learn?" Right after that, without finishing her sentence, she said, "Where is it?" he said the following sentence that made me stand up and look left and right: "Did you know we have a graphics tablet in the office? How is this with Pardus…"
If you're expecting a happy ending here, I'm sorry to say that you're not close to the end yet. I only found the box in the office because it's your dear tablet. With the box in my hand, I said, "Brother, this is empty, but…" I entered the room with slow steps. "Oh, I'm sorry, it slipped my mind. that tablet Gizem' he said. If he doesn't use it, we ask him to call." he reassured me. It was very difficult for me to buy the tablet from Gizem. Due to time inconsistencies, he left the tablet to my middle brother one evening, saying today is tomorrow. Let me thank him again through these lines. 🙂
Gizem left the tablet to my brother, but it turns out that we entrusted the lamb to the wolf… His drawing talent is not bad at all. And when there is a brother, of course, he is very curious about this type of device, like me. What should I see when I come home in the evening, it just sits on my desk. It turns out that he didn't open it before I came, just in case. The first thing I did when I got home was of course connect the tablet to the computer and start playing around.
Using a graphic tablet in Pardus
Did you know that you can use Wacom brand graphic tablets as "plug and play" in Pardus? I learned this by trying it too. The graphics tablet that came in was Wacom's Cintiq. I made the connections between the tablet and the computer with various questions in my mind and I saw that the tablet was working without any adjustments.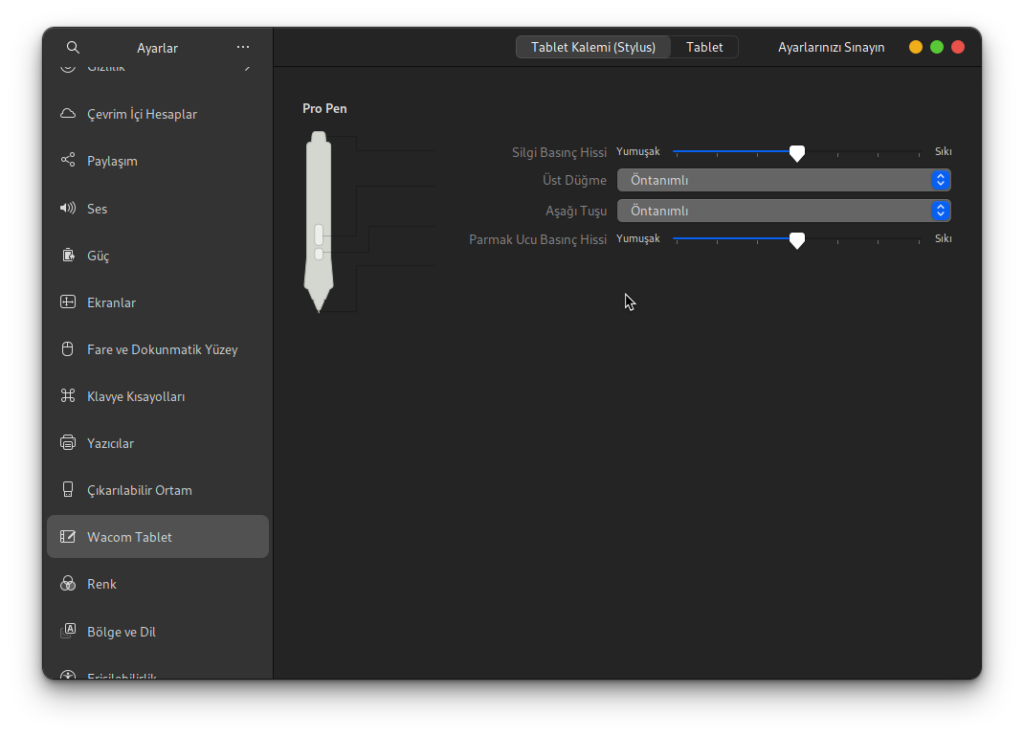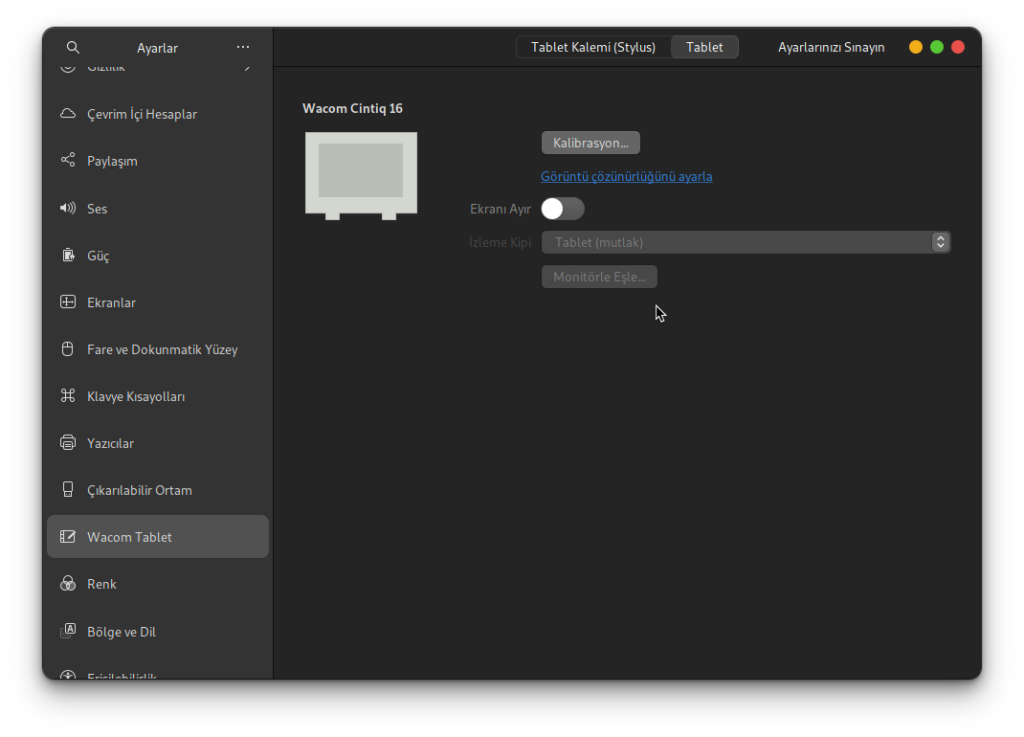 To keep the user experience at the highest level, I recommend using the latest version of Pardus that works with the GNOME desktop environment. Screenshots belong to the Pardus 21 GNOME interface and have been customized by me.
While looking for an application where I can easily try the functions of the graphic tablet, Pardus "Pardus PenIt occurred to me that there is an app called ". I tried it right away. But the result would be a bit of a disappointment for me.
Let's give some feedback, shall we? The Pardus Pen application is a very nice application written for interactive whiteboards, but the lack of Wacom login support in the application is an important deficiency in my opinion. For this reason, I could not try the indispensable functions of graphic tablets, such as giving different responses to pressure changes and switching the pen to eraser mode, through this application. Then I searched for a different application.
As a result of a short research, it was not found in Pardus repositories at that time, but Flatpak App Center I found Xournal++, which can be installed on Pardus via Xournal++ is a very nice note-taking app with Wacom input support.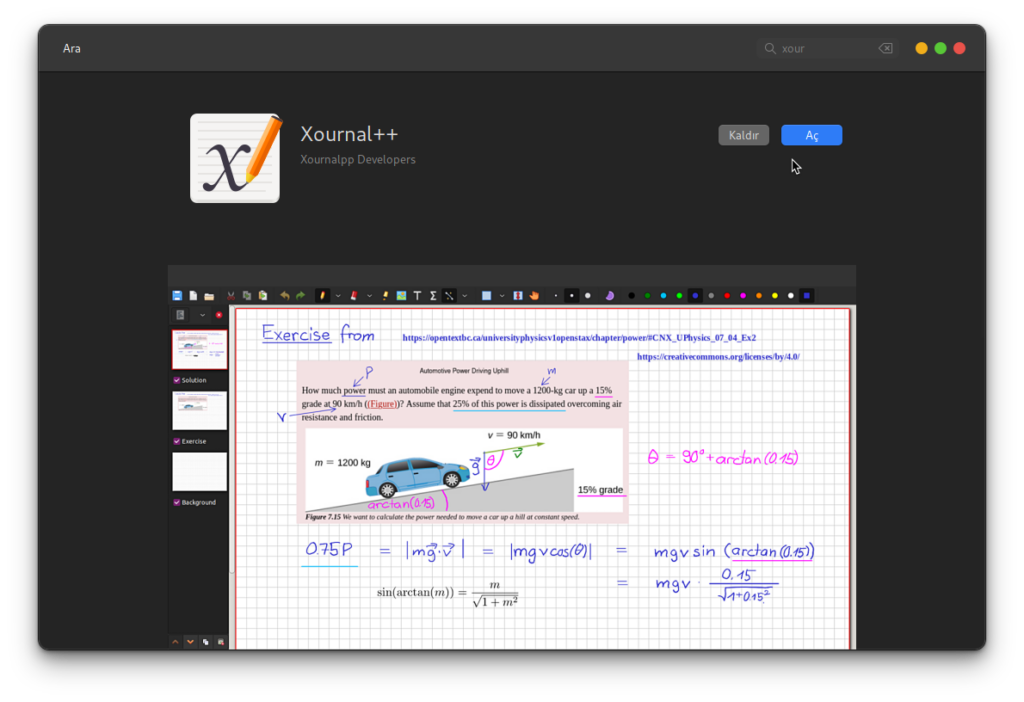 While I was fiddling with the device and satisfying my curiosity, my brother was watching me, so to speak. 🙂 So I left the tablet to him and left the room for a bit and left them alone for a bit. When I came back, he had done the work that you can see in the image below.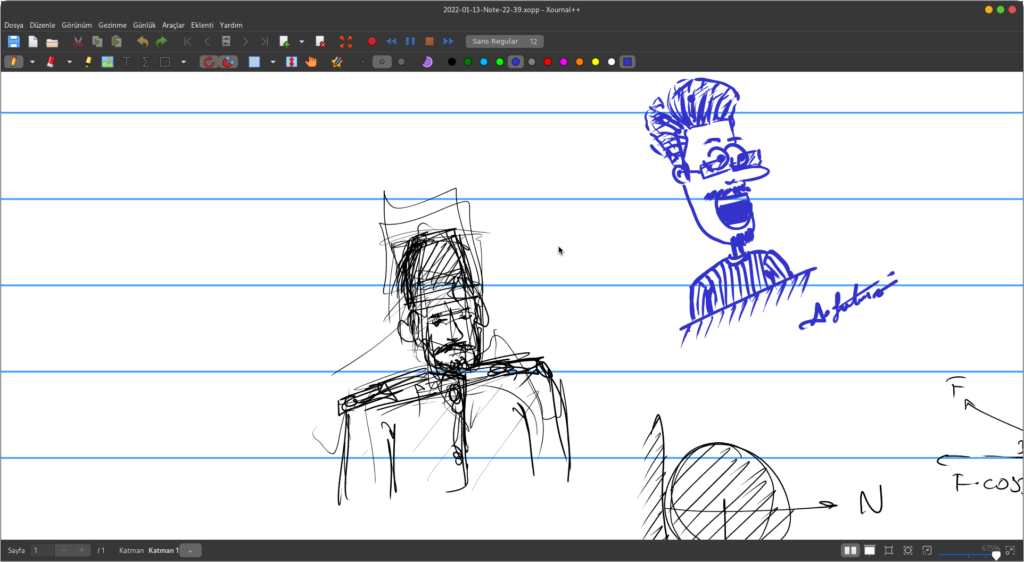 PardusPrograms with Wacom input support in Linux-based distributions are of course not limited to Xournal++. Popular graphics programs such as MyPaint, GIMP, Krita, Inkscape are among the programs that have the said support. In particular, MyPaint is a highly functional program specially developed for graphic tablets. Just like Xournal++, you can easily install the latest version of MyPaint on your Pardus via Flatpak Application Center.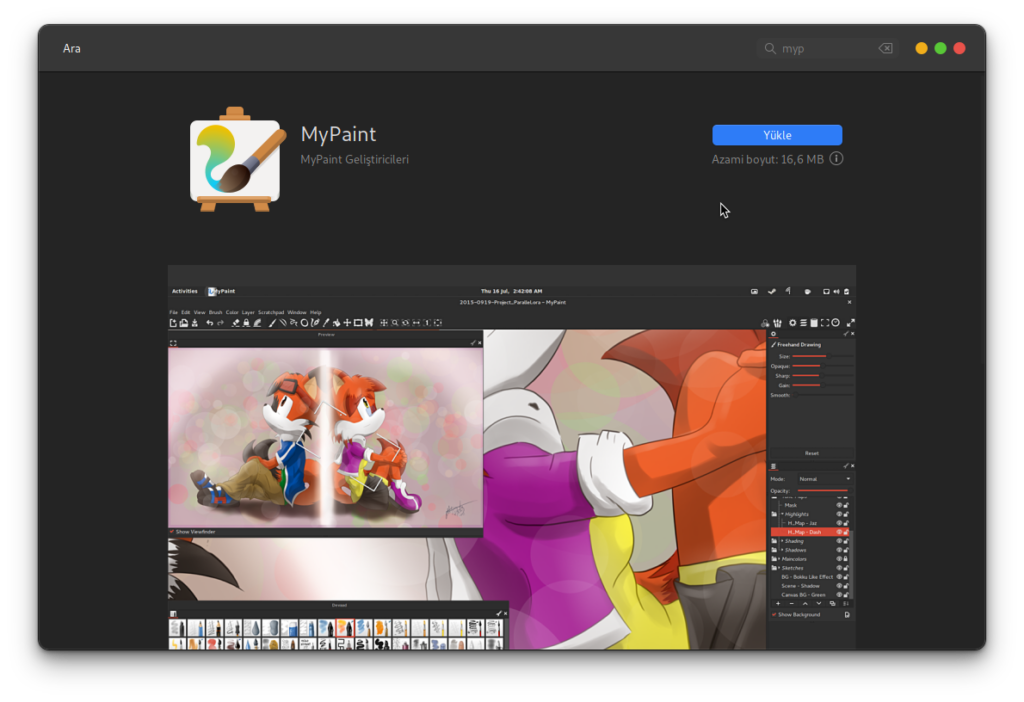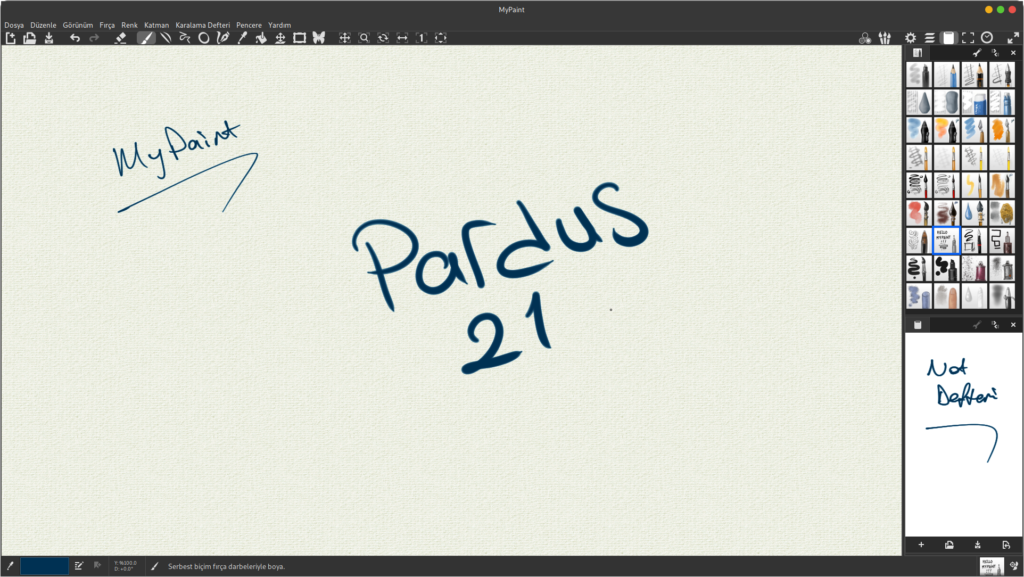 You can also check out my elegant butterfly just below.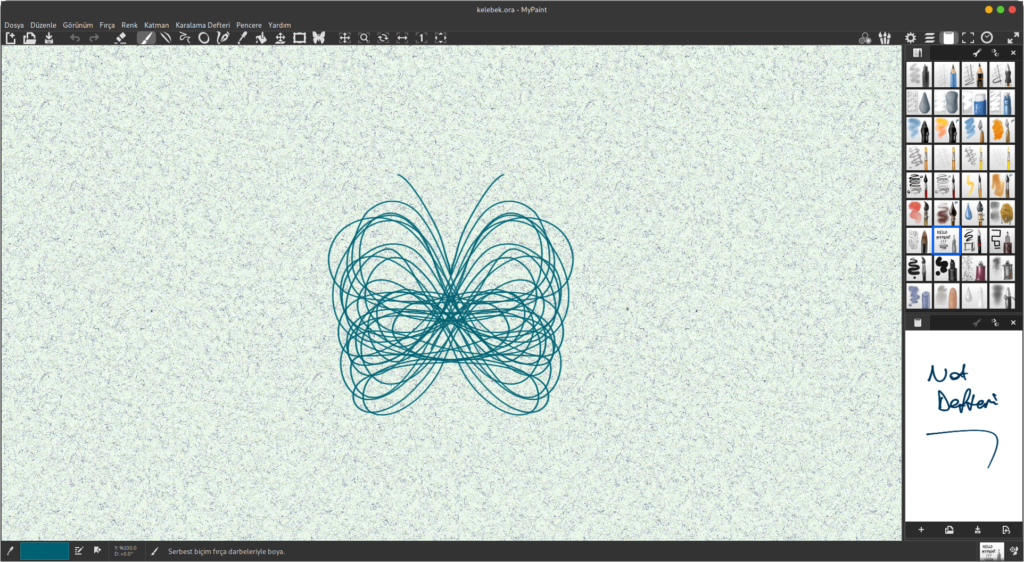 In essence, the job of digital artists is very easy in Pardus!