The Document Foundation (TDF) Executive Board Member Ayhan Yalçınsoy has prepared the long-awaited LibreOffice 7.2 Getting Started Guide by Turkish LibreOffice users and community.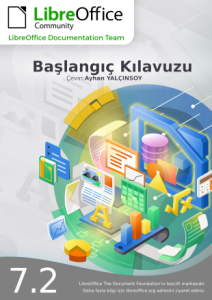 The LibreOffice 518 Getting Started Guide, which includes an enormous 7.2-page documentation, is one of the most comprehensive studies ever prepared for an office software package in Turkey.
Written to cover all users on Mac OS, Windows and Linux platforms, this guide is based on version 7.2, covering the vast majority of updates to LibreOffice.
Who is this book for?
Anyone who wants to get started with LibreOffice quickly can use the Getting Started Guide. You may be used to a new or other office application in office software. For a LibreOffice newbie, the availability of a step-by-step instruction manual on what you can do with this office productivity software is invaluable.
LibreOffice 7.2 Getting Started Guide is not just for individuals; It will meet the certification needs demanded by public and private institutions that will want to migrate from proprietary and expensive office packages to LibreOffice.
What's in the LibreOffice 7.2 Getting Started Guide?
This book introduces the following main components of LibreOffice:
Writer (word processor)
Calc ( spreadsheet )
Impress (presentation)
Draw (vector graphics)
Base (database)
Math (equation editor)
The book also details some of the common features of all components, including setup and customization, styles and templates, macro recording and printing.
This document, which is a translation of the Getting Started Guide distributed in English, will help Turkish users to master LibreOffice more easily. to the document in question here you can be reached.
Written for our community by dear Ayhan Yalçınsoy, who has done a great job. blog to your writing here .